The past year has been one for the books and I'm so excited to recap all the excitement!
But first off I want to thank each and every one of you for all your love, support and encouragement over the years. This journey has been an adventure and a half and you guys have always stuck by my side. This journey of mine isn't all about me or my accomplishments but more about OUR success and OUR adventure so thank you from the bottom of my heart! So buckle up because the next 365 days are going to be a wild ride
Now to the recap excitement!
January started off with a fun filled first trip to the ACMAs (Alberta Country Music Awards) in Red Deer Alberta. I had an absolute blast with miss Lynn Tessari meeting fellow Albertans on the same musical journey that I am on. Made so many amazing new relationships, reconnected with so many musical friends from the past, heard some phenomenally talented artists and had a blast dancing at the after parties (my specialty haha). The trip was highlighted by one of my best friends Emily making the drive up and bringing her family to Billy Bobs to celebrate with me! After ACMAs I hopped in Ems jeep and we drove down to Calgary to enjoy some quality time together which included a workout at her brand new workout facility "Crush Camp" and a quick trip to Banff to go ice skating on Lake Louise.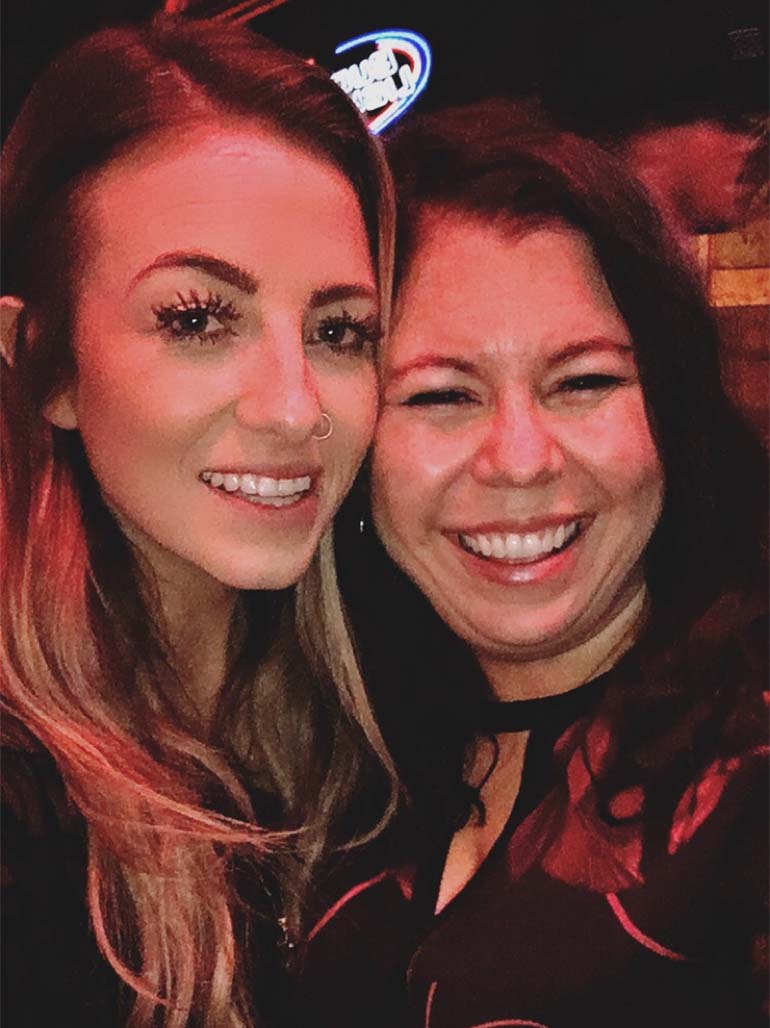 In February I hosted my first ever "Mix and Mingle" at the beautiful Nashville Music Loft. Miss Lindsay Lawler helped me put on an awesome night with friends from all over dropping by to enjoy some wine and veggie "meat balls" (seriously *Gardein vegan products are fab!). We had a mix of different friends from Canada to ones here in Tennessee.
Lucy Angel, Greg Rider and Adam Gregory even stopped by to sing a few songs!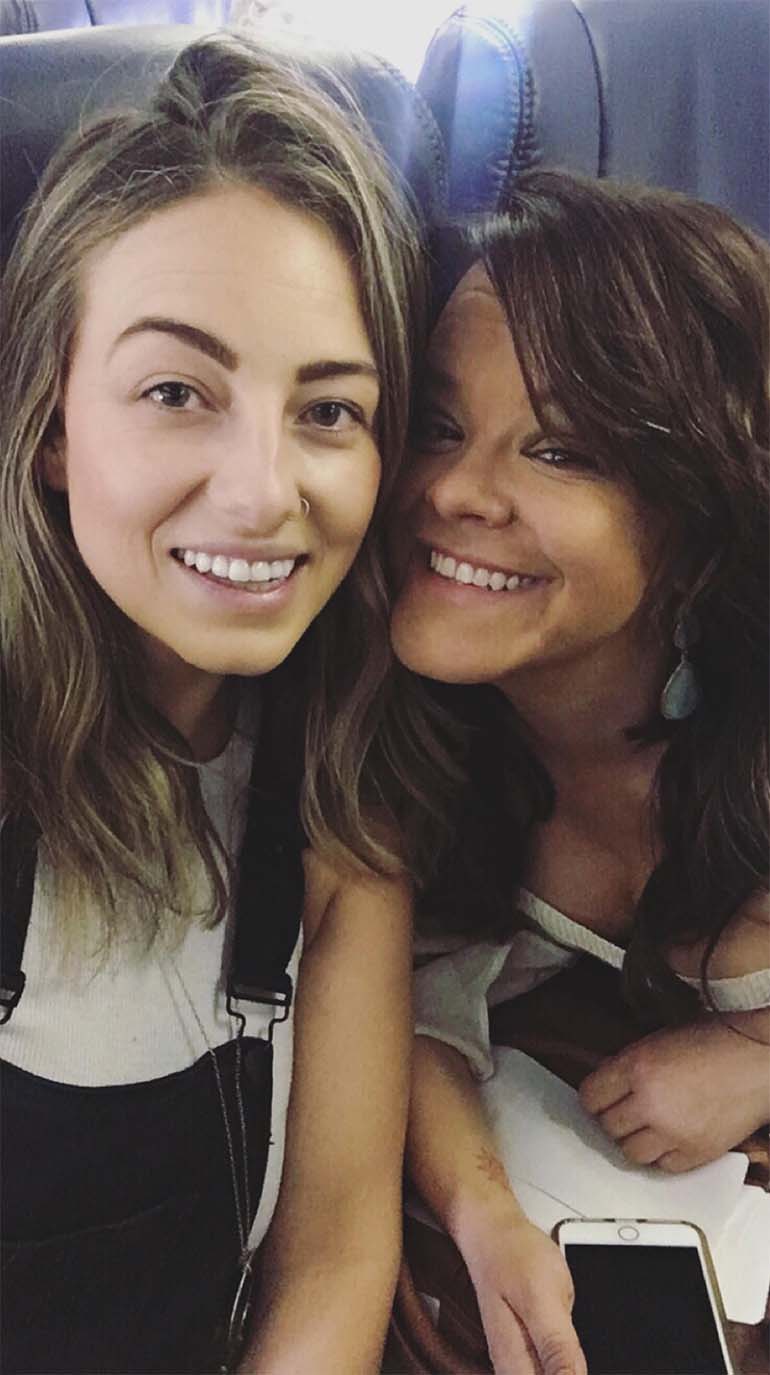 March was awesome as I played my first major House Concert in Loveland Ohio "Live in Loveland". My friend Ajaye Jardine and I packed up our guitars and headed north first to play a show with our friend Timothy Paul in Newark and then headed south to the epic house concert put on my Al & Sue Kentrup. The house was packed and we set a new record for attendance that night! So thankful to Al and Sue for hosting these amazing events and giving independent artists a phenomenal spot to showcase their talents J March also brought an amazing road trip with my friend Rachel Bell as she relocated to Denver CO. We spent our first night in Kansas City Missouri which was a ton of fun and then hit our destination the next day. We hiked up to the famous Red Rocks amphitheater, ate some amazing vegan food and made some fabulous memories. I need to head out that direction ASAP and would love to play some house concerts or venues out there. If you happen to be in that area and have any leads please drop a girl a line and lets plan this thing!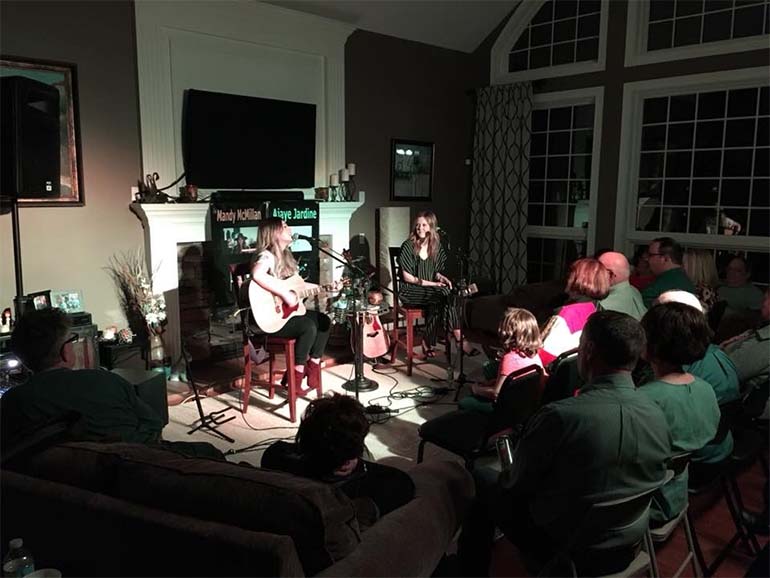 April brought a fun filled month with me playing my hometown radio stations Birthday Bash in Leduc Alberta. From there my guitar player and good friend Cody Yost came down to visit Nashville and to see what this town is all about. I also started the process of recording Chasin The Ace and had a fab time co-producing it with my producer Simon Gugala.
May was filled with amazing memories such as opening up for American Young in Lousiville KY, opening for number one songwriter Chris DeStafano at the Country Music Hall of Fame and travelling to New Orleans for the first time to play a private show with one of my best friends Lindsay Lawler! We had an amazing trip and I got to experience the great city in style with the fire truck bar tour, staying in a haunted mansion, celebrating at the famous Pat O'Brians and dining at the oldest family owned restaurant in the country Antoine's. May also brought the exciting trip to Cabo St Lucas for my sister Angeleena's beautiful wedding! We had an amazing family trip and definitely one for the books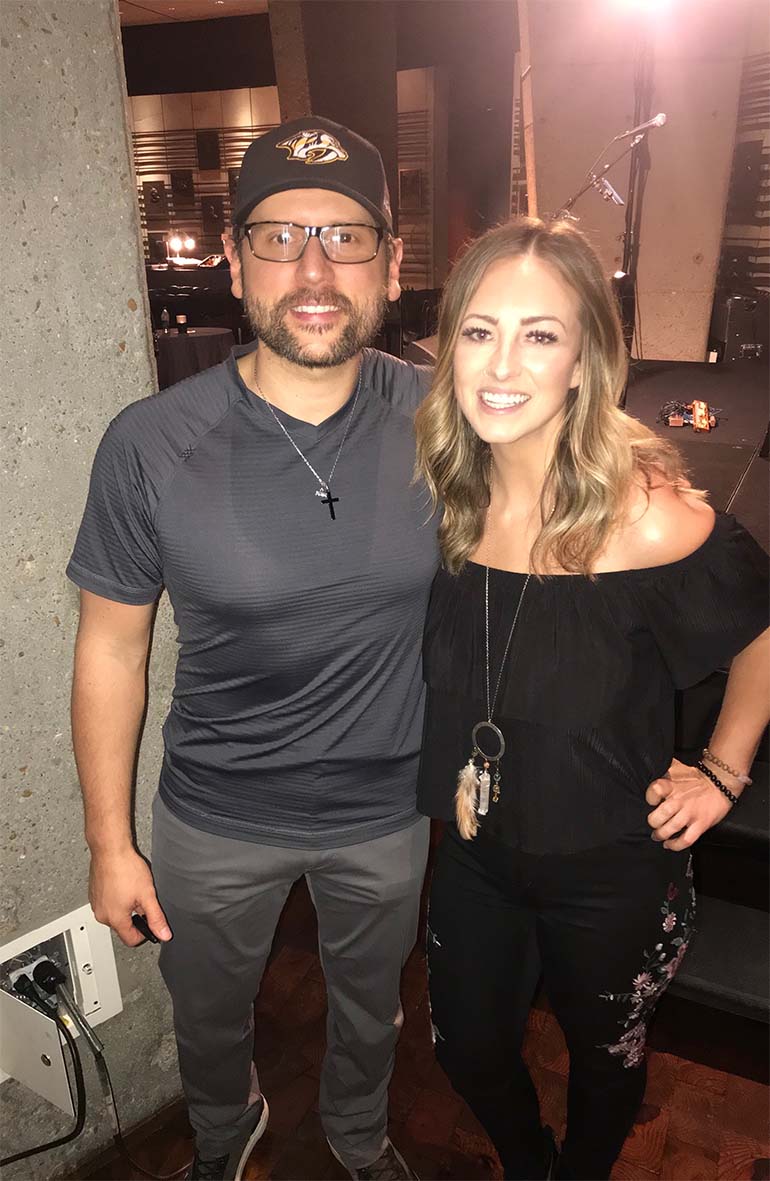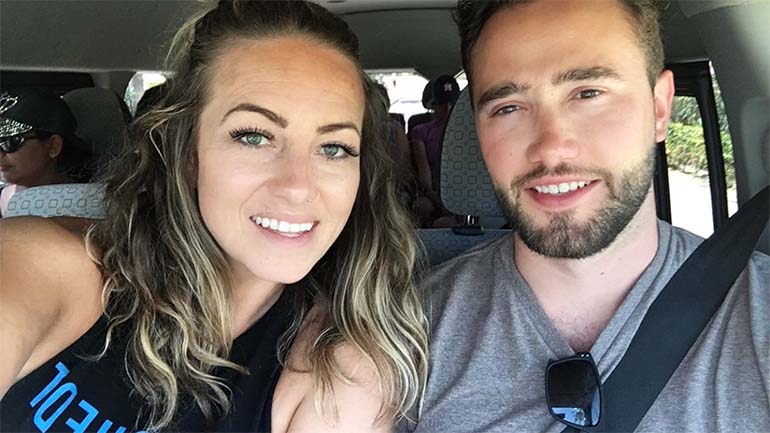 June was very exciting with a hometown show that brought number one songwriter Phillip White up to my hometown of Stony Plain to play an amazing writers round as we brought a little bit of Nashville to the north. It was a great Sold Out event and everyone had a fabulous time! My band played the hometown After Party for Farmers Days for the second year in a row which was another sell out. June was also filled with lots of CMA festivities, a surprise visit from my best friend Dalyce for my birthday and a week long tour in the north with miss Ajaye Jardine. We played in some amazing places, made some amazing friends and had a friggin blast on the road! From Ohio, New Hampshire, Vermont, Maryland and Kentucky we checked off some amazing places off the old venue list
In July I did a whole bunch of travelling first off playing my friends wedding with my good buddy Zack Dyer in Minneapolis then headed out early the next morning to fly to Calgary Alberta and play a private party which was a great warm up for my band playing the Calgary Stampede for the first time ever!! It was such a dream come true to play the big Coca Cola stage and I still get goose bumps thinking about it J After the Stampede I headed off to Jasper, Alberta with my friend and photographer miss Ali Matheson and did an amazing photo shoot in the Rocky Mountains.
August wasn't as busy but there were still quite a few amazing times including a trip back home for our annual Family Reunion party where my band played until wee hours of the morning, a quick trip down to Camore Alberta to show James the mountains and then off to Calgary to visit my best friends Emily and Ross. Had a great time and on our way back to Nashville I snuck off and bought my dream purse … a vegan leather Mat & Nat light brown over the shoulder purse. Drool! I have to add that in there because I bought the purse with the positive intention that I had worked very hard this year and deserved something to remind me everyday that abundance is all around us and ready for us to grasp. Plus the purse wasn't that expensive, not like a mortgage payment or anything haha
September took me up to Hamilton Ontario with my road trip partner Ajaye for the Canadian Country Music week where I had 3 showcases! We drove a beautiful 2019 Ford Mustang Convertible that Enterprise so generously upgraded us to and had the most amazing trip of our lives. So many amazing memories made, my showcases went fabulous and it turned out top be a very important trip because I made a connection with a super talented industry person whom I will be working with in 2019 so yay for the near future!!! Eee September was also filled with abundance as I added Blake Shelton's Bar Ole Red to my venue list and was able to purchase a flight to Germany to have a once in a lifetime trip. More of that in October! In September I also had the honor of watching my first Alison Kraus concert thanks to my amazing friend Carrie and was able to meet miss Alison after the show. She is a huge influence in my music as it was her version of 'When You Say Nothing at All" that won me a singing competition back when I lived in Canada that assisted me in getting my work visa to move to Nashville. I started working with an amazing publicist and friend Samantha Johnson who helped me with the promotion of Chasin The Ace which included a photoshoot with Jordan Merrigan.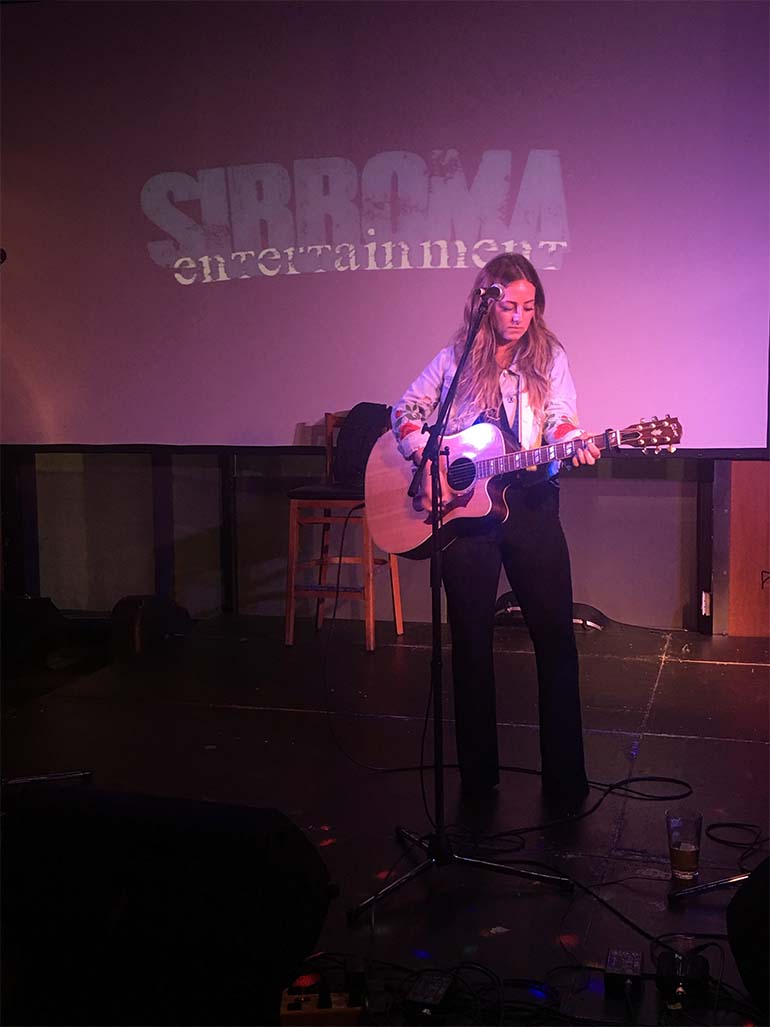 Now comes end of Sept/ beginning of October with my amazing trip to Germany to visit my sister Angeleena and brother in law Ryan. Just so happens that our sister Karli was able to take a week and a half off work to join us which made for an epic trip! I could type it all in here but we'd be sitting here for years haha so make sure to check out my "Blog Post European Style" 1 & 2 for all those details!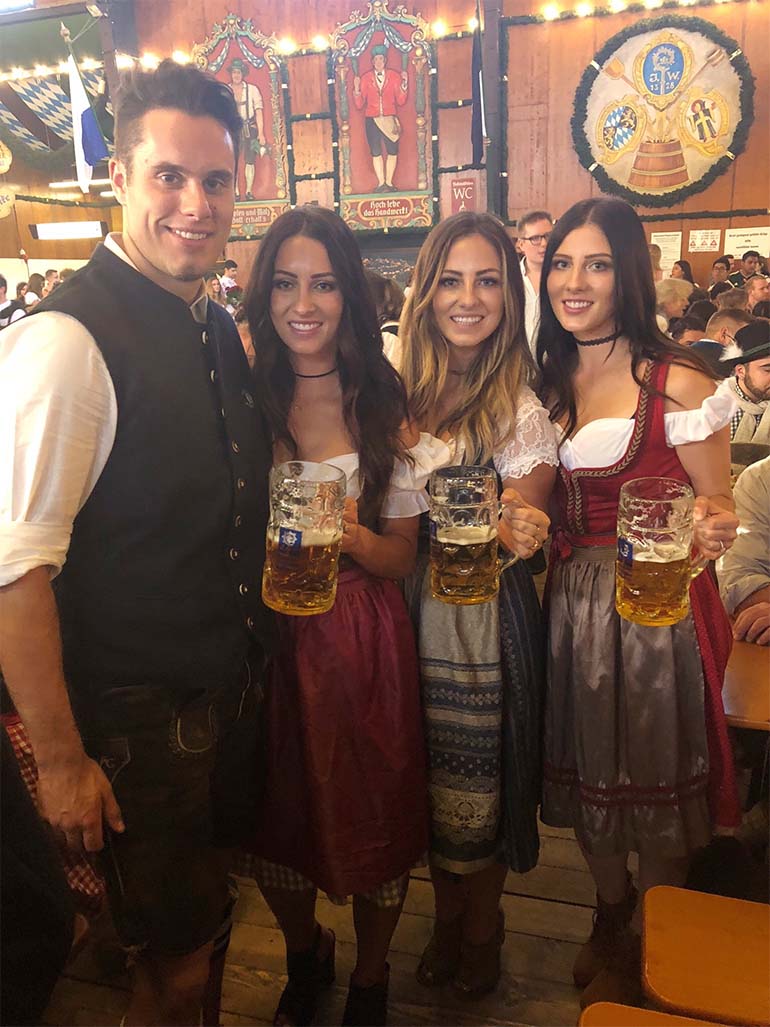 When I got back from Germany we released Chasin The Ace which included live performances on Nashville radio 105 Nash FM "The Ty Kelly & Chuck Show" and an on air live band performance on WSMV "Today in Nashville". The release went amazing and we've had a fabulous response from it so far. That weekend my buddy Zack Dyer, my assistant Carly Kahl and I headed up to Loveland to play the amazing "Live in Loveland" to promote the release!
November was a blast as I got approved for my new work visa and travelled up to Toronto Ontario for a few days to wait for my new entry date which just happened to be Nov 11 2018 – Which if you've read my last blog post works out to be 11-11-11 a magical number in the numerology world! I can feel the positive vibes already!! Had a blast in Toronto J My friend Tyson welcomed me into TO and toured me around which was a blast. Everything from watching Bohemian Rhapsody in the theatre to walking around downtown to shopping and trying out vegan food. I was able to convince Tyson (didn't take much) to hop in the jeep and drive down to Nashville with me. He agreed and James and I had a blast hanging with Tyson at the CMA Awards and then the Big Machine Label Group After Party.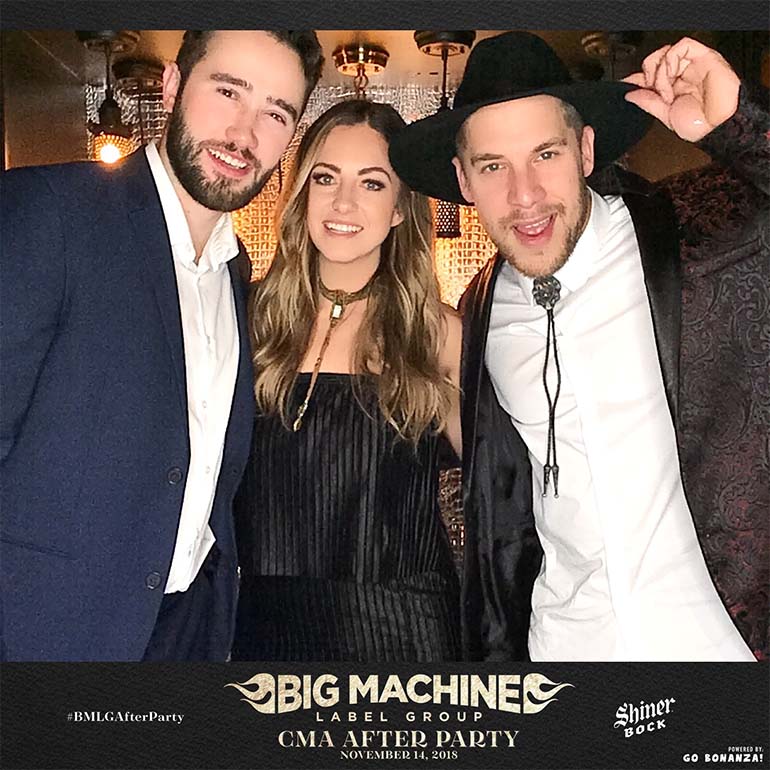 Now onto December which was so great to get ready for the holidays and o ya James and I moved into a new place… Never a dull moment in this life haha We are super happy for the change and look to be inspired all year long. We made a quick trip up to Michigan for the holidays to see James family and have some much needed rest and relaxation.
All in all this year was fabulous! I made my goals of hitting 5000 followers on Instagram, got my first brand ambassador team up with KNIX Wear and I recorded and released a new single J I'm sure I missed out on a few monumental moments but I'm already 5 pages deep and you guys are probably fast asleep by now haha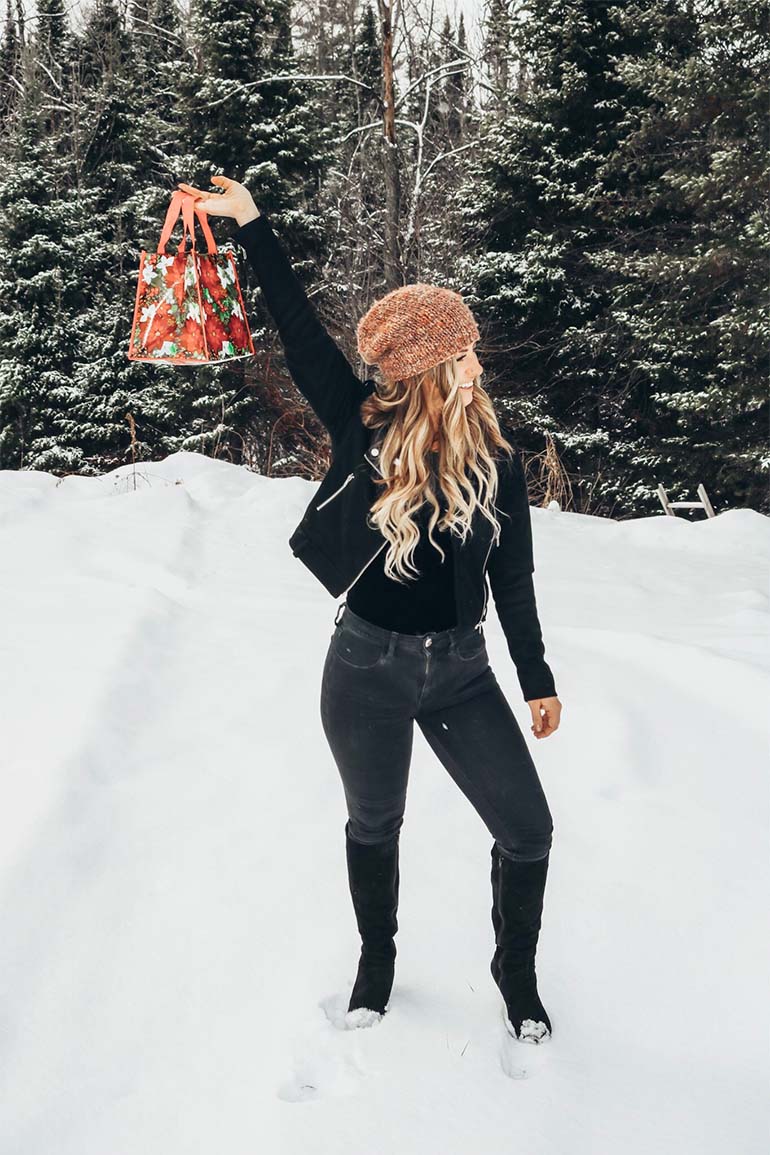 Again thank you for your support and I am so excited for the next 365 days! And a big thank you to my friend Tim Reynolds who helps keep these blog posts on track! Have a wonderful rest of your holiday season and I look forward to continuing this journey with you all throughout 2019
Lots of love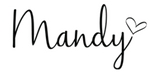 P.S. I'm super excited to be a part of the ambassador team for KNIX Wear in Canada. They have a fabulous line of womens bras and panties. Make sure to take a peek for yourself or to buy a nice little gift for someone special! And us my code MandyMcMillan10 to receive a $10 gift card off your purchase!