I hope everyone is having an amazing Holiday Season so far!! I can't believe it's already December especially because I've accidentally kept you waiting to hear about the last part of my trip to Germany … which is about to get stripped down, uncovered, and raw! Haha! First, you need to hear about Oktoberfest then I'll go into the Naked truth.
Last blog we left off from the Shania Twain concert … AMAZING! But the next few days were epically life changing.
When I first picked out my travel days I had no idea that I would be in Munich for Oktoberfest and let me tell ya I screamed a little when I found out! I had been to an Oktoberfest event put on in Nashville the year before and its so crazy because I actually said out loud that I would be at Oktoberfest in Germany the next year. Manifestation at its finest people!
Saturday morning we woke up and went for a 7 mile run to the Nyphemburg Palace which was beautiful! We ran back to the house and got to try on some beautiful Drindls that Angeleena's friends Erica and Dwan let us borrow. Absolutely beautiful to wear traditional drindls and not the fake kind you get in the gift stores over there J
Ryan, Angeleena, Karli and I headed off to the Oktoberfest grounds and oh my goodness was it ever crazy! We're talking thousands of people walking around a fair with large steins of beer and riding the Ferris Wheel. We made our way to one of the beer gardens and by a struck of luck got pulled from the back of the line by a waitress that just happened to have a table needing to be filled. We had an amazing time singing, dancing, laughing, drinking beer and making friends with some local German men who were taking a break from their teaching jobs to hang with the boys. Thankfully I was lucky enough to find a vegetarian and vegan menu for food as well … Germany did not disappoint with that! Ryan had to leave early due to having to play hockey early the next day so us girls had a blast for the rest of our night then walked our tipsy selves back to the apartment.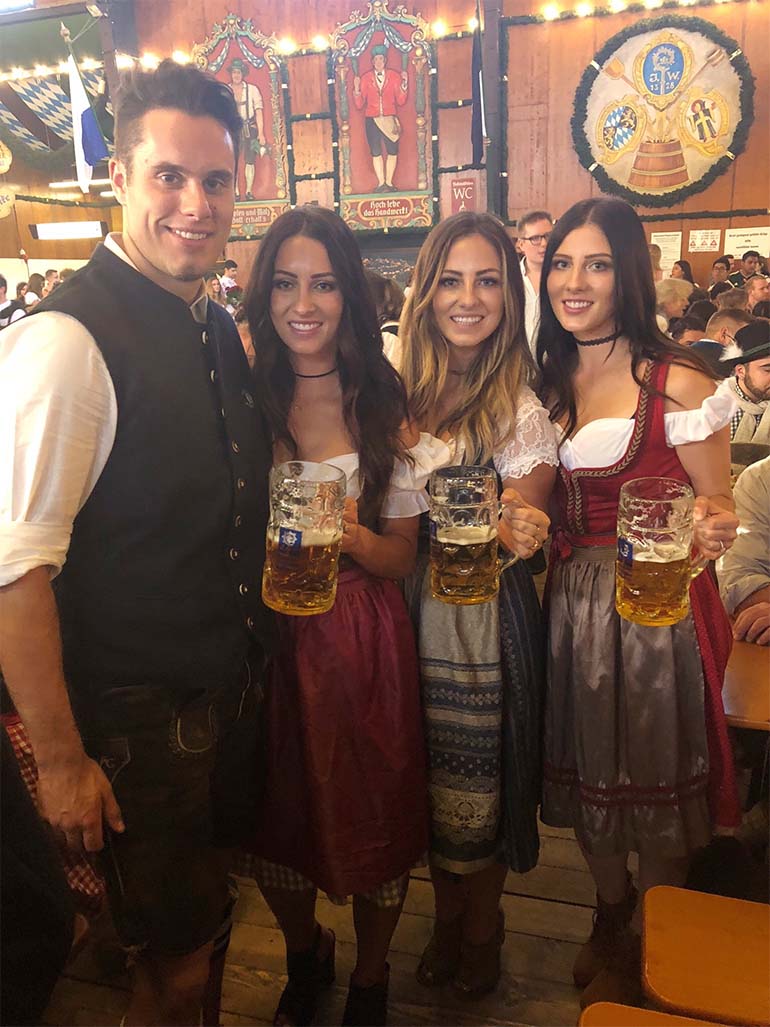 The next day was a bit foggy but we relived our Oktoberfest memories, got bundled up and headed out to cheer on out RyRy at his hockey game. Where he scored his first goal of the season! So amazing to witness. Us girls had planned to have a much needed relaxing night to recoup from the night before but with Ryan scoring his goal he was fired up and somehow convinced us girls that we should go out and celebrate with the hockey team at the last night of Oktoberfest.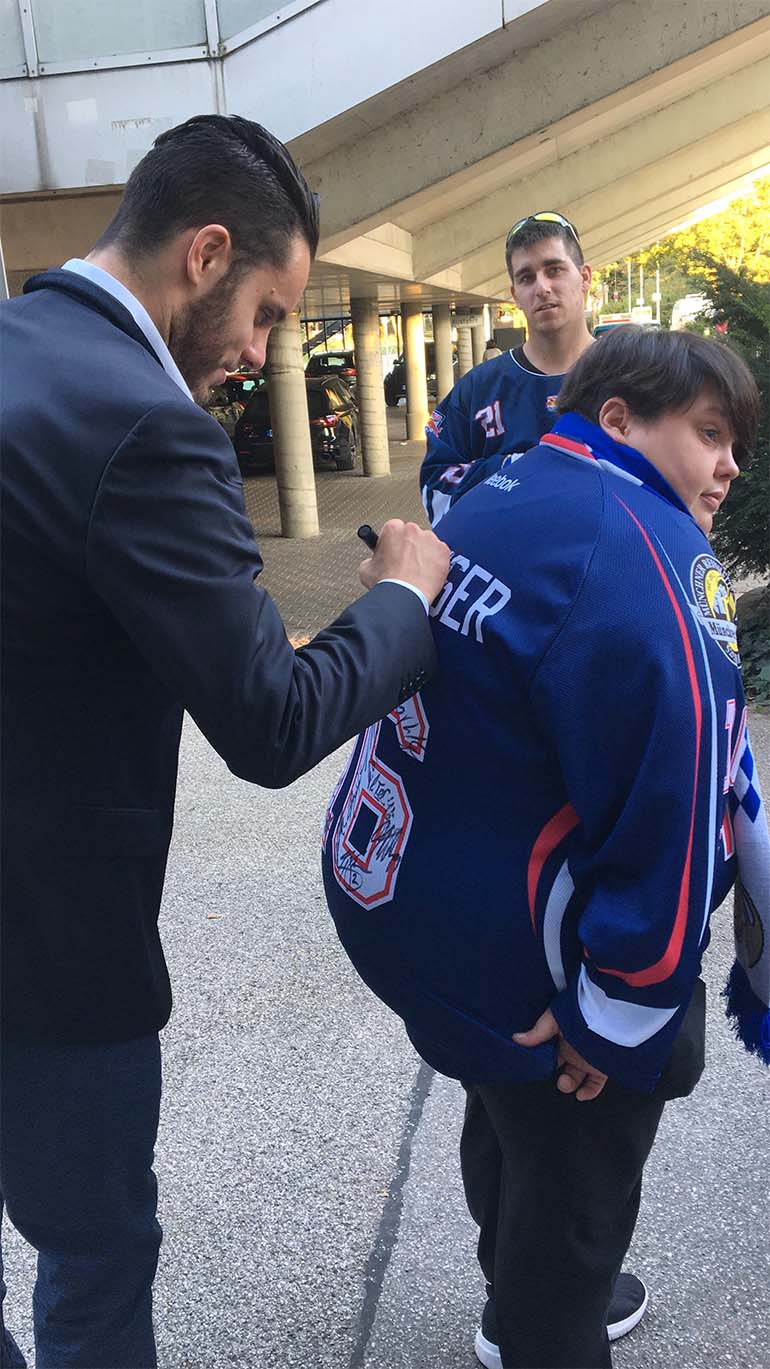 I can tell you that it didn't take a lot of arm twisting because it was a freakin blast. So we got dressed up and headed out to meet up with Ryan's hockey team and their wives. I'm so glad we went again and had a chance to really get to know all of Angeleena and Ryan's hockey family, most of them are Canadian so we had a hoot partying with them! After a few beer steins we all decided it would be great to ride some of the German fair rides (which I can let you know are not like your typical western world safety first fair rides) haha One of the favorites is where you have to step onto a moving belt to get up to the top where you ride a potato sack down the slide. So many laughs and good times as people who have been drinking attempt to get their balance and not wipe out too hard. We made it up with only a few minor bumps and bruises lol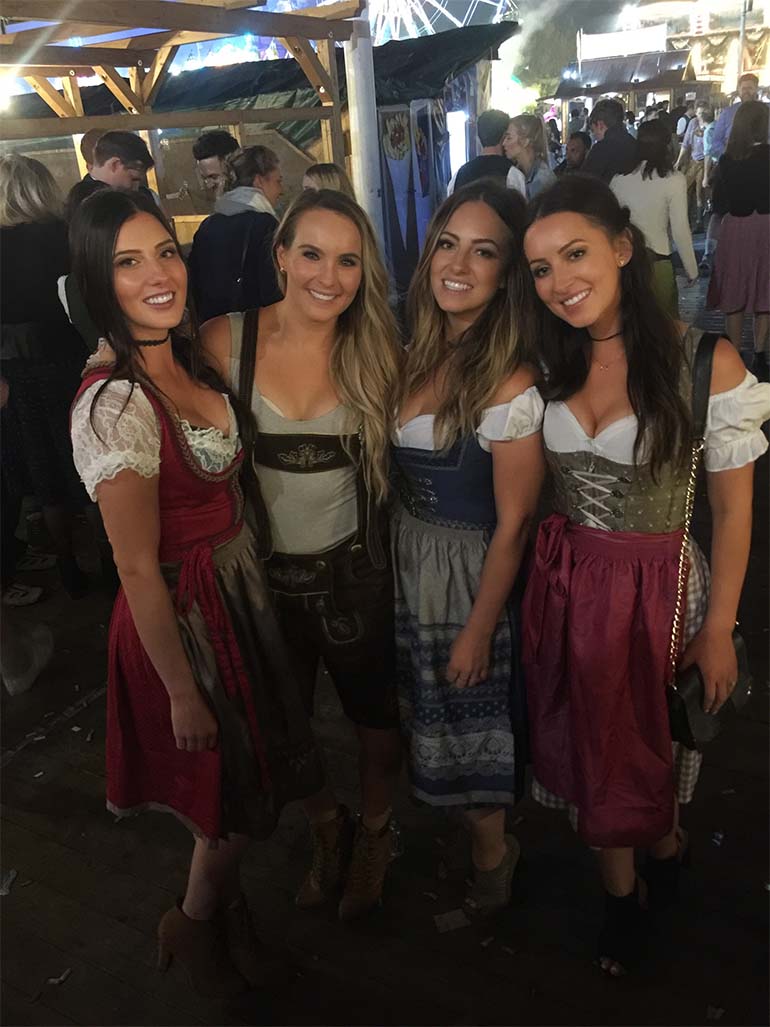 After that we all headed out to a super fun bar called Bussi Bussi where we danced and created so many amazing memories.
The next day and our official last day for adventures is where this entire blog post has been leading up to… Nudity! Now there were bare bums and full frontals earlier on in the trip that came from walks in the parks where it's up to one's disclosure to wear clothes or not but now this is our own story. Angeleena had decided that after two weeks of fun we should spend a day relaxing and rejuvenating at a spa … Therme Erding Nude spa. Such an interesting concept for three Canadian girls raised on the western views where you cover up and are fined for flashing a body part. Well if you haven't been to Europe you need to know that they fully encourage being in the raw. Up for the new adventure we headed to the spa. A beautiful building that at first glance feels like you're walking into a waterpark and then you see signs where no clothing is permitted. Of course everyone is over the age of 18 and it's very classy. It took us girls a little bit of time to warm up to the idea and on the count of three it was time to drop the towels and head into the first sauna. After you have a pep talk with yourself to be calm it honestly is the most freeing experience ever and I had a huge AHA moment that day. We are all made in the eyes of our creator be that God, The Universe, The Divine. There is no such thing as perfect and when we get down to the bare of it all we're all beautiful and should accept each other as we are. We hit up special sauna events where we rubbed coconut cream and flower pedals on ourselves for moisture as the sauna expert put water on the hot plates to create steam, we experienced the Russian sauna where there was music, eucalyptus petals, temperatures into the high 100s and ice water being tossed around. We grabbed a salad for lunch, swam up to a swim up bar, ordered a drink and floated around the pool all while talking about how grateful us girls are to have been able to create some amazing memories. I honestly cannot wait to go back to Germany just to experience the freedom at the nude spa and I highly suggest everyone try it as well J
The next morning we woke up and packed our bags. Drove Karli to the airport, Angeleena and I went out for (another) amazing vegan lunch and then it was off to the airport for me.
I am so thankful for the experience to go to Germany and fully live in my "Chasin' the Ace" ways. This past year has been quite the ride and I encourage everyone to push boundaries, travel, learn, love and grow!
What Ace are you Chasin'?
Love y'all!